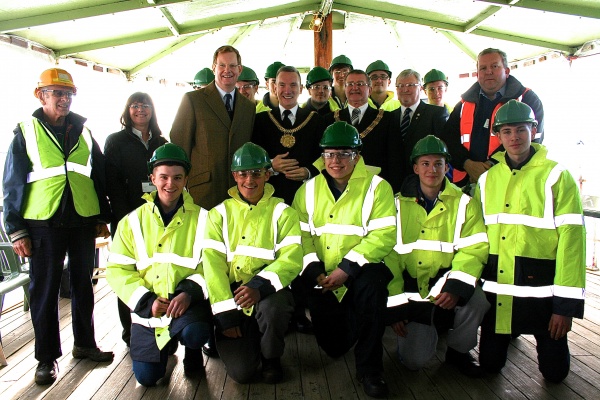 The Daniel Adamson Preservation Society's first VIP open day was an overwhelming success to help publicise its bid for a major Lottery grant to restore Britain's historic last steam tug tender 10 years to the day after saving the ship from the scrap yard and forming the Society.
The Earl of Derby was guest of honour aboard the 111-year-old SS Daniel Adamson, which is being restored to full working order, at Sandon Dock, Liverpool. He was joined by the Lord Mayor of Liverpool, Gary Millar; the Mayor of Wirral, David Mitchell; Louise Ellman, Liverpool Riverside MP and Parliamentary Transport Committee chair; David Morgan, Maritime Heritage Trust UK chair and several future key stakeholders, partners and councillors including Rob Polhill; Leader of Halton Council and their Chief Executive David Parr.
 The event also gained widespread coverage in the regional media, most notably with the Liverpool Echo, BBC TV North West Tonight and BBC Radio Merseyside. The guests – included a large group of young TTE apprentices. TTE have contributed much resource over the years to support the restoration of the Tug.