If you're considering a career in engineering after graduating from secondary school there are two distinct paths that you can take, engineering apprenticeships or a university degree. Each path has pros and cons and each maybe more suitable to different types of learners. Engineering training comes in all shapes and forms. So picking the best option for you and your chosen career path is essential.
The most obvious distinction between the two is with an engineering apprenticeship you are working, earning and learning on the job from the very start. Whereas with a degree you are purely studying your chosen subject. But weighing up the pros and cons of each is essential to making sure that you arrive at the right decision for you, and your future.
We have created a useful infographic that compares data regarding going to university and getting a degree. Versus training towards a qualification through an apprenticeship.
This infographic looks at factors such as how much debt you should expect to accumulate in the process and the chances of having a full time job once you have competed your studies.
But we have also put together a great post about the pros and cons of each. So read on and see if engineering apprenticeships or a university degree would be ideal for you.
Preconceptions
We don't want to say that a degree is better than an apprenticeship or vice versa, we just want to make it clear what the differences are so you can choose the right career path.
An apprenticeship does not automatically mean you can't complete a degree at a later date, in fact many apprentices continue onto university and study for higher education with the help and support of their employee.
Apprenticeships are not just for students who didn't get the grades to go to university, there are many apprenticeship schemes that have a very tough application process and strong competition for places.
If you get excellent grades don't automatically think you should go to university, look at the options and consider that many companies are looking to recruit exceptional school leavers who want to head straight into the work place.
Aspirations
The path you choose will more than likely be dictated by your personal career aspirations. For example if you want to become a doctor then you need a degree, however if you want to become a chartered accountant you can take a higher apprenticeship for two years then study for your ACA (http://www.icaew.com/en/qualifications-and-programmes/aca) which takes three, this is less than the 6 years it could take to graduate from university.
Money
How your finances are going to look is one of the major factors when considering which training route to take. At a basic level, apprenticeships mean that you can earn on the job. Whereas university degrees mean paying a lot up front through grants, bursaries, or out of your own pocket.
As university degrees become even more expensive apprenticeships become more attractive. Whilst you may leave university with a debt in the region of £44,000 or more, as this is expected to rise sharply in the near future, an apprenticeship offers you the chance to gain career training for free whilst earning a living.
A typical starting salary for an engineering apprentice is around £12,000 and £15,000. Although, these quickly rise as you hit different levels of qualification. Added to this the average salary of apprentices finishing their 3.5 year training with TTE is between £23,000 to £28,000 with no student debt an apprenticeship becomes even more attractive.
The financial aspects of an apprenticeship are probably the most obvious advantage. Looking at these figures, it may seem like a no-brainer. But the government's drive to get more people into engineering, means that there are a lot of grants and bursaries available out there. Particularly for those from disadvantaged backgrounds. Plus, the high starting salaries of engineering graduates means it's likely you'll be able to pay off any debts that you have pretty quickly.
So if you already have your heart set on doing a degree. You shouldn't be put off by the figures above. However, if you want to end your training course with more money in your pocket than when you started. There's only one real option to choose.
Gaining the Right Experience
Apprenticeships are all about gaining experience on the job. Whether you're working for one company or with an independent trainer, there's one thing that's guaranteed. You'll be learning practically. You'll be solving real problems on site and be working as part of a team or individually to fix them.
For those who prefer to be out and about rather than sitting with their nose in the book. This is the major benefit to choosing an apprenticeship. It's also great if you've already decided which aspect of your sector you want to specialise in. And are only looking for experience in that industry.
However, if you're not quite sure exactly which part of your subject you want to specialise in. And if you don't mind studying and exams, a degree could be a better option for you. Although assessments aren't based on practical learning. Students are encouraged to try a range of work experience on top of their studying. This means that you can take a look at lots of different types of engineering before deciding on your final specialism.
The Disadvantage of Apprenticeships
Depending on your career path you may not be able to find an apprenticeship that suits your career goals. If you have a clear idea of your career path and there is an apprenticeship that will get you there then they are an excellent option.
A university degree can give you time to decide and understand what your ultimate career goal may be, university allows you to study traditional subjects whilst keeping your career options open. It's also often mentioned that university has a great social scene and you get to concentrate solely on academic study for three years. A university degree is not to be dismissed lightly.
When to Choose
If you are currently studying for your A-Levels then why not apply for apprenticeships and university degree courses. Investigate each option and research as much as possible. Don't feel pressurised into choosing a specific path because of peer pressure or family influence.
The current demand for all types of engineers means that prospects look equally as good for qualified apprentices and university graduates. For apprentices, jumping straight into a full-time paid position with the company that you worked for is the obvious next step. As is further study for graduates.
In fact, whichever route you've qualified from, lots of options are open to you. Whether you want to take on a graduate scheme with a company, or get further qualifications at university. Both paths will help you to pursue your chosen career path.
Take your time to research your choices and talk to people who have done an apprenticeship and those that have completed university degrees.
Engineering Apprenticeship or a University Degree Infographic
There is a lot of information to take in when making your decision. So we have put together an infographic to try and simplify some aspects of it. With the pros and cons of each listed for easy comparison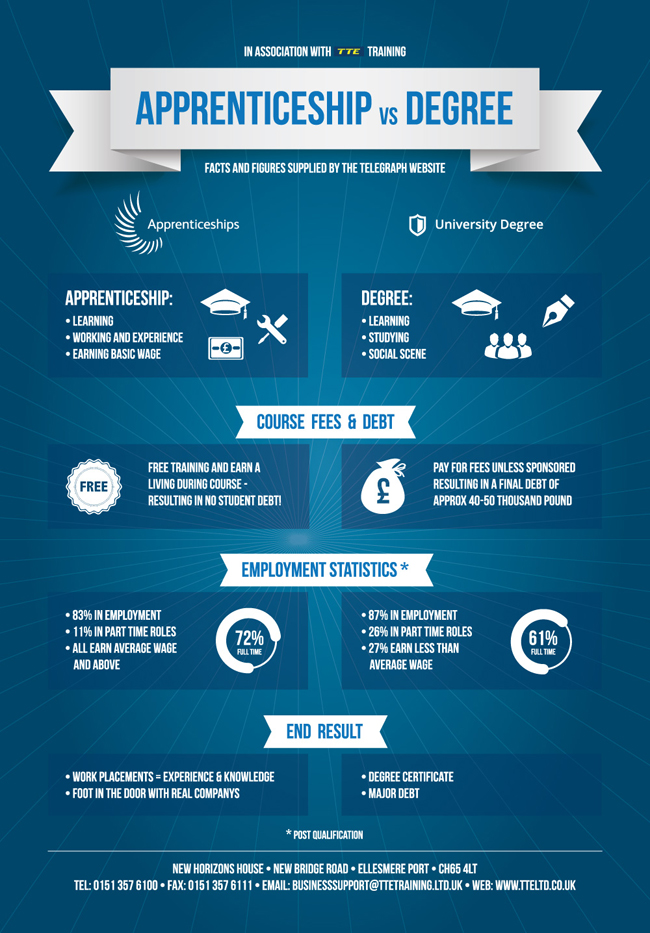 Feel free to share this infographic with your friends and make sure you like it on Facebook and share it on Twitter.