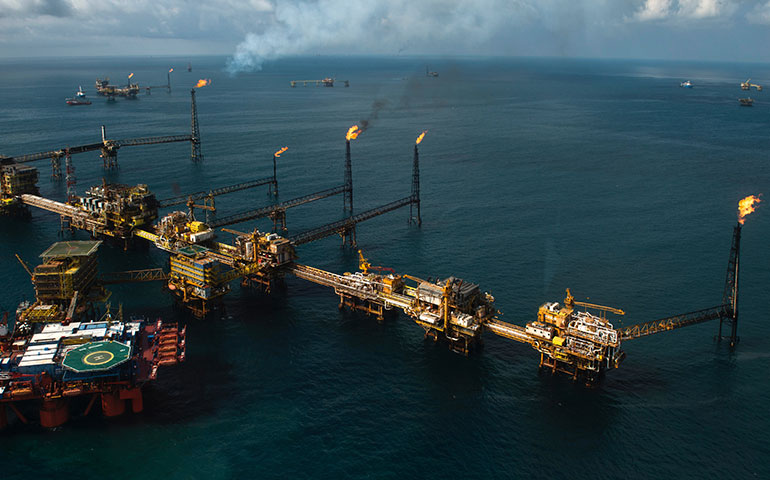 Despite promising other world leaders that the UK would cut carbon by more than two-thirds by 2030, Prime Minister Rishi Sunak announced over the summer that, in partnership with the North Sea Transition Authority, the UK Government will hold another oil and gas licensing round beginning this autumn. It means that more than 100 licences will be open to businesses looking to expand existing fields or develop new projects. This will be the UK Government's 33rd oil and gas licensing round with the UK currently having more than 280 active oil and gas fields. The Prime Minister's arguments for doing so are focused on energy security and economic impact.
Critics
Obviously there have been many critics of this policy, announced at a time when everyday there were headlines on a heating planet as various parts of the world suffered from devastating fires.
Chris Skidmore, a fellow Conservative MP and author of the Net-Zero Review said that the decision was: "on the wrong side of a future economy that will be founded on renewable and clean industries, not fossil fuels."
Ashok Sinha, the chief executive of Ashden an organisation which supports proven climate innovation in the UK and helps communities access clean energy, said that while the US and European Union are "ramping up their investment in the green economy, creating new jobs and attracting inward investment", Sunak's policy is "threatening the UK's future economic competitiveness, and creating jobs that will only have to be made redundant later on."
UK Sustainable Investment and Finance Association (UKSIF) chief executive James Alexander, was another of many others to give his view too, citing the International Energy Agency's statement that new oil and gas projects should not be funded if the world is to achieve net-zero by 2050.
Mixed messages
If you're wondering what's going on here, you are unlikely to be alone. In The UK Government Climate Change Committee's (CCC) most recent progress report to Parliament, it said other nations no longer regard the UK as a first-mover on climate issues, due to mixed messages since it hosted the global environment conference, COP26, in 2021.
The fact remains though that under constant pressure from multiple parties, the oil and gas industry faces significant challenges, like increased regulatory scrutiny and an emphasis on environmental responsibility. As the world transitions toward cleaner and more efficient energy sources, the new energy market is seeing rapid expansion. Rapid expansion means jobs, yet there will be jobs in the traditional energy sector for some time yet – because not only will any transition take time, but the sectors are also vigorously fighting their corner, here and abroad.
What does this mean to you?
In the CCC paper it says that meeting the UK's 2050 net-zero target could add between 135,000 and 725,000 net new jobs, if the transition is managed carefully. That's a lot of jobs. And while there will still be huge employment in the oil and gas sector and as the transition takes place, as it must, engineers, fitters, construction workers and many others will be engaged in the creation and use of clean energy.
There are thousands of companies operating in the renewable energy sector and many offer energy apprenticeships for a huge breadth of roles and career pathways. Many employers are, and will be, looking to secure the best talent from the greatest variety of backgrounds, and actively encourage young people to find out more about career opportunities.
And young people thinking of a career in this sector can take advantage of the fact that the UK is suffering from a skills shortage – especially in engineering and construction so there are new skilling upskilling and reskilling opportunities alongside skills for all new sector entrants.
And where best to acquire those skills? TTE, of course. We train people to the highest standards through sponsored Advanced Apprenticeships Level 3 in Engineering and Laboratory Operations and Engineering Apprenticeship Level 2 programmes with Whole Person Development incorporated into the training, making you a perfect for all sectors of the energy industry, today and tomorrow.